Books:
NEW! DuAnn's book " Pooch Paramedic"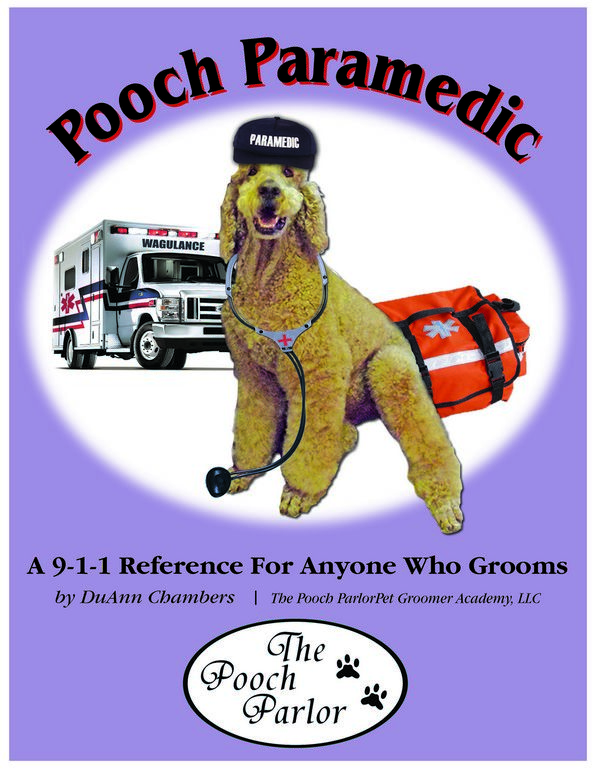 The Pooch Paramedic is a medical reference book for professional and novice groomers. This book
was created by a state-certified grooming school expert instructor, with a background in psychology
and research. Since 1997, she has owned two high-volume grooming shops full-time, now currently
owning one. The author has been documenting and photographing issues and injuries, working closely
with dozens of veterinarians, groomers, and pet owners for 20 years to compile this comprehensive
injury prevention reference book for the pet grooming industry. This 20 years of research has yielded
the anecdotal injury statistics based on the grooming experiences of over 240,000 dogs and cats studied.
The Pooch Paramedic is a structured guide for groomers, coaching how to: prevent, identify, treat,
and manage, a large variety of common pet injuries caused by owners, environments, dogs, and
groomers. Cases such as pet asthma are an urgent matter, while skin issues can wait for the
veterinarian's next opening. Trouble-shooting and addressing common medical symptoms concerning
groomers and owners pre-and post-groom include:
• Detailed symptoms for numerous issues.
• Recognizing when to treat in-house.
• When to reference a licensed veterinarian.
• When urgent action is required.
• Recognizing groomer intervention between home and vet care.
• Detailed images to identify an issue, and treatment management.
Groomers often are the bridge between owner care and veterinary care. With this book, groomers can
have confidence in being a medical liaison for the owners. recognizing when veterinary care is needed
for the most common medical issues found in the grooming room.
Having educated knowledge of medical issues or concerns in the grooming room benefits
everyone: the groomer, the dog (or cat), the owner, AND the veterinarian. Take the fear out of handling
'what ifs' in net grooming. This comprehensive grooming and safety encyclopedia is a solid, simple
and straightforward education, The Pooch Paramedic is the 911 medical resource that is a MUST HAVE
for anyone who grooms! Collective works by this author can be found at wwwthepoochpartor.net,
www.YouTube.com.and Amazon.com.
Look for the corresponding book to The Pooch Paramedic by
this author,Poop Happens?! Remain Pawsitive, copyright 2015
addresses the emotional aspect of pet grooming injury prevention,
trouble-shooting, and treatment.
DISLAIMER; Groomers must always weigh the benefit versus the
risk in all things they do and all decisions they make on behalf of
themselves and their human and dog client. Pooch Paramedic is meant
as a reference for practical and useful injury management, not as a
substitute for common sense, clear communication, and professional
veterinary intervention. The Pooch Paramedic and Pooch Parlor Pet
Groomer Academy is not responsible for, and expressly disclaims all
liability for, damages of any kind arising out of use, reference to,
or reliance on any information contained in this book.
Copyright ©2017 by DuAnn Chambers
All rights reserved. This book or any portion thereof may not be reproduced Of used in any manner
whatsoever
without the express written permission of the publisher except for the use of brief quotations in a book
review.
Printed in the United States of America
First Printing, 2017
ISBN 978-0-98610-52-1-0
Fundcraft Publishing
P.O. Box 340, 410 Highway W.
Collierville, TN 38027
www.instantpubhsher.com
$59.99