DuAnn's book " Poop Happens? Remain Pawsitive…"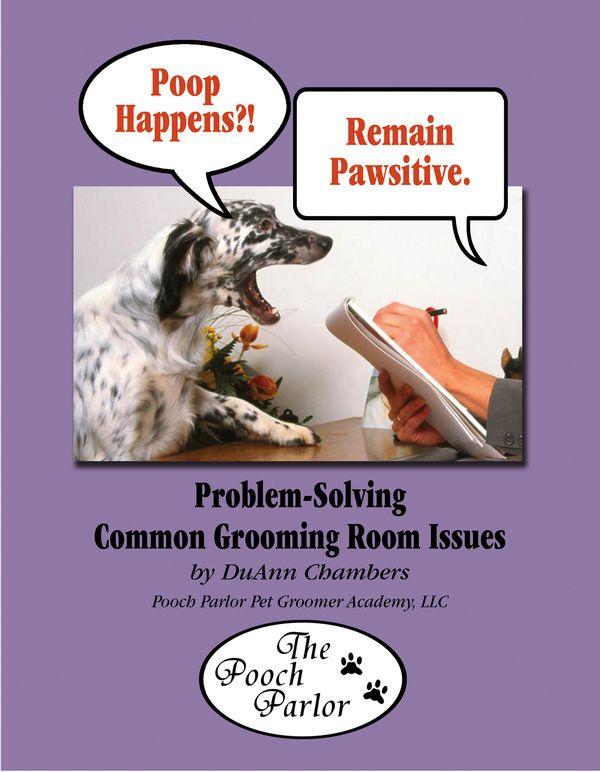 Pet grooming injuries, big or small, are inevitable to experience during a pet groomer's career. Dealing with the difficult side of dog grooming – emergencies, injuries, communication and damage control – can all be accomplished using ethics and professionalism. In fact, interacting with dog parents after a grooming injury is the number one fear reported by freshly graduated pet groomers. Successful groomers must address both aspects of an injury: physical injury for the pet, and emotional injury for the pet's parent, in order to promote emotional satisfaction for the pet parent, which in turn, promotes the professionalism of the business reputation. Groomers that do not address the emotional needs of dog parents experience low success rates, and high financial liability in their businesses.
Poop Happens? Remain Pawsitive. has been created using twenty years of anecdotal research at Pooch Parlor Pet Groomer Academy, LLC located in Ponderay, Idaho. Grooming and training experience includes owning and managing multiple shops, multiple groomers, and having experiences dealing with multiple pet injuries as a basis. This book teaches groomers what to expect after a grooming injury occurs: how to reduce emotional and financial liability for the groomer and/or business, how to help owners heal, how to identify high risk owners AND high risk dogs, how to price or offer grooming services following an injury, how to identify injury categories a well as how to professionally manage pet injuries found or caused. Additionally, this book addresses the MOST difficult topic for ANY groomer or grooming business – why catastrophic injuries occur, how to avoid catastrophic injuries, and how to manage catastrophic injuries both professionally and personally. Phone scripts are included to help groomers correctly inform owners of pet grooming injuries, from minor to catastrophic injuries, as well as downloadable forms for professionals to use in order to reduce groomer liability regarding any injury involved in the grooming process.
Poop Happens? Remain Pawsitive. can help ANY groomer experience a career that brings joy to the groomer while allowing them to successfully navigate potential "career stopping areas" of the pet grooming industry.
$28.99