Self Service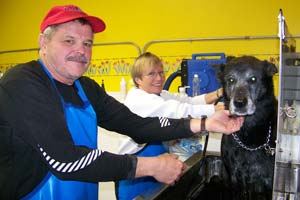 Self service is offered at our shop. All pets must be leashed and under the control of the owner at all times. No exceptions. Children under the age of 12 are not allowed in the bathing area. Customers interested in self-service are supplied with a noose to restrain their dog in the tub, shampoo, and conditioner by request, and any required brushes or combs. Nail trimming is available by a professional upon request before the bath. The fee for nail trimming ranges from $5-$15. There are dryers next to each tub, and the entire process of bathing, brushing, nail trimming and drying are done in the tub. Stairs are provided. For dogs that don't care for stairs, it is necessary for the owner to lift his or her own dog into the tub (or bring a spouse that can do it for them).
There is a one hour time limit for self-service customers. The fee to wash your own dog ranges from $10 – $25.00 depending on the weight and shampoo requirements of your dog. Customers of dogs with lice or fleas are not allowed to use self-service, and are instead encouraged to use the full-service option. The cleanliness and reputation of a pest-free shop is highly valued by Pooch Parlor staff and guests.
Customers with multiple dogs are welcome to bring their dogs into the shop for a bath one at a time. Pooch Parlor does not have space to store or kennel dogs not under your immediate control. Customers should be prepared for a doggie daycare atmosphere as the daycare is part of the bathing area.