Testimonials from some of our clients and Academy graduates:
Diana
February 13, 2016
"Pooch Parlor in Ponderay is excellent! My kitty, Sassy had terrible matting that was making it uncomfortable for her to even walk. She was getting depressed, not her usual lively self, and was just nibbling at her food.
Every other groomer I contacted wanted to a use anesthesia to put Sassy under for grooming. To my relief, DuAnn agreed to work on her without anesthesia. DuAnn was so patient and loving she allowed me to stay and hold Sassy while she work on grooming out those nasty mats. It took upwards of an hour and a half of starting and stopping to give Sassy a break and get used to the idea of us using the shaving tool on her. DuAnn warned me that there could be some skin irritation and potentially scabbing….but none occurred.
The end result was beautiful. Sassy looks like a little lion. Best of all Sassy is running and jumping, climbing trees and back to eating..even asking for seconds, now that she is burning up so many calories. I would have been the last person to believe that just grooming your pet could have such an impact on their health…..but I am a believer now….and I believe in the ability and love that DuAnn and her staff at Pooch Parlor possess.
~Namaste Diana"
Bill and Cynthia Pettross for their daughter, Claire
July 4, 2015
"DuAnn Chambers, owner of The Pooch Parlor in Ponderay, has been a very important, positive influence in our daughter's life. Claire started as a volunteer at "Pooch" and discovered that she loved working with dogs. When she decided she would like to pursue pet grooming as a career, DuAnn's groomer training program was available to teach the required skills. Despite the expected ups and downs of training a young adult, DuAnn was a patient teacher and compassionate mentor. She serves as an excellent role model for professional behavior with customers and their pets. Claire has graduated from The Pooch Parlor training program and continues to work there.
DuAnn is an experienced teacher who supervises a diverse group of volunteers and trainees, with differing levels of motivation and personal responsibility. We have a lot of respect for her willingness to attempt to bring out the best in her trainees, helping them to be personally fulfilled, contributing members of society."
Sincerely,
Bill and Cynthia Pettross
Irma Smith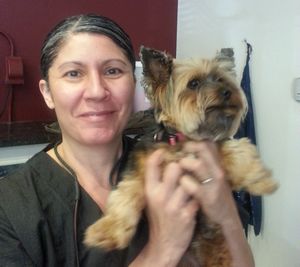 Julia Baillod
The Joy of Pet Grooming – A Great Career Choice
by Julia Baillod, ex-Jumpin' Java Bus Owner
"I am living proof that age is not a factor in becoming a certified professional pet groomer. Whether you're 16 or 65, if you love dogs and/or cats and have a desire to learn something new in an ever-changing field, then pet grooming may be the perfect career choice for you. I made it my career choice in September of 2013, and every day I awake with a sense of gratefullness for having made this decision.
For many people, dogs and cats bring a secret comfort and a private peace. Samuel Butler wrote: "The great pleasure of a dog is that you may make a fool of yourself with him and not only will he not scold you,but he will make of fool of himself too." So what could be more meaningful than to perform a useful service that creates a sense of well-being for these very wonderful creatures. Although grooming often centers around dogs in the classrooms, what applies to dogs, applies to cats as well.
When someone gives me their dog to groom, it is my responsibility to take care of that dog and give him/her a positive and relaxing experience. No two dogs are alike and whether they're big or small, nervous or calm, ancient or baby, you will learn to give to them a safe and pleasant grooming experience from head to toe.
All students learn a great deal more than just scissoring and clipping. Dog psychology is an integral part of becoming a professional groomer. It deals with understanding how a dog thinks and being able to respond and interact with dogs in a way they can comprehend. When you understand how a dog thinks, then you can help them overcome fear and aggression and help them remain emotionally balanced throughout their grooming experience. Dogs learn to trust you and to relax in your presence, which is a key aspect of being an effective and well-respected groomer. And what applies to dogs, applies to cats equally.
Choosing a state recognized grooming academy, such as the Pooch Parlor Pet Grooming Academy, you receive the added benefit of one-on-one classroom training and on-the-job grooming of actual customer dogs and cats. Customer's request student groomers for the student's sake and in recognition of their generosity, DuAnn offers 50% off the price of their groom.
The Pooch Parlor Pet Grooming Academy is licensed and bonded through the Board of Education in the State of Idaho, and this opens the door for you to practice professionally anywhere in the world. As part of your training, you will learn multi-tasking skills, customer service skills, organizational skills, and the ability to remain flexible during the most challenging of days.
And now, having completed the technical and academic requirements for the Advanced Dog & Cat Grooming Course at the Pooch Parlor, I am one happy puppy — this is a career that I can and will continue to practice comfortably for many, many, years to come."
Jill LaBrosse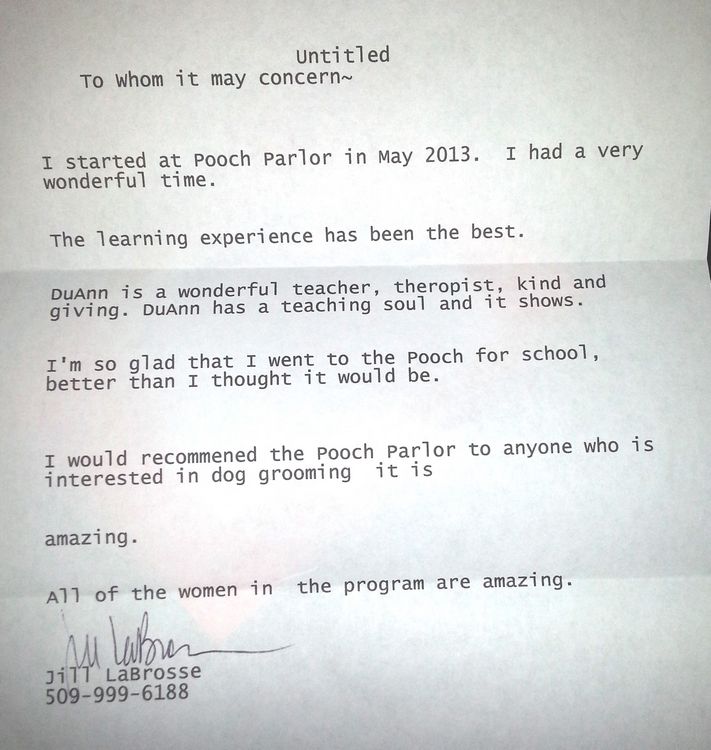 Nancy Wilson
"Hi, My name is Nancy. I AM 40 years old. I HAVE BEEN Disabled since 1994, and under assistance from the disability and social security program. I have PTSD, severe social anxiety, learning disorders, and have had clinical depression. In march 2013, I enrolled in Idaho Vocational Rehabilitation. I was accepted, and granted an opportunity to become a certified pet groomer. I was initially considering a school in Los Angeles, CA. That school was a 5 week program. I really liked the idea of having certification in only 5 weeks. Another option was "The Pooch Parlor Pet Grooming Academy" Located in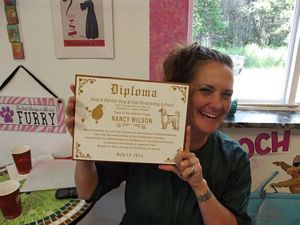 Ponderay, ID. THIS PROGRAM lasted 3~ 6 months. I was pretty set on going to California, but agreed to visit the Pooch Parlor along with my vocational rehabilitation counselor, just to see what this place was all about. When we first walked through the doors, I loved the energy there. I met Alley, one of the many students who have graduated. She was immediately eager to help and give information.
DuAnn Chambers, the owner and instructor, seemed very pleasant and approachable. Approachable and easy to talk to is important to me because I come from a foundation of abuse. The authority figures in my life as a child were very very unappraochable… DuAnn was friendly and paitent, but also to the point and direct. Easy to understand. I appreciate everything I learned form DuAnn Chambers, and all the girls there. Truely, I learned how to groom dogs, how to cope with their different personalities, and not have their problems interfere with my mood. I learned a lot about communicating with others, and respecting each person for who they are, without having to give up who I am. Truely, I am so thankful to have chosen the Pooch Parlor pet grooming academy over going to California. 5 weeks just isnt enough time to have really learned anything. A person like me needed the individual discernment that only duAnn has about dealing with people."
Nancy graduated in July of 2013 from Course II and is currently employed at two grooming shops and is well on her way to becoming financially independant.
Ethelene Gardner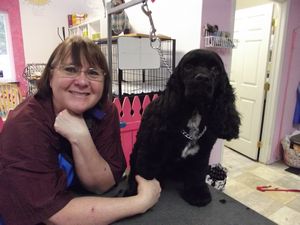 "My name is Ethelene Gardner, I am 58 years old and am embarking on a new and exciting adventure in my life. I am entering into the world of becoming a State Certified Dog Groomer. Somewhere in my far past I was destined to be at this point and in this new career so this is my story. As I enter this new life no matter where it takes me I know I will succeed because I have self determination and compassion. I was born in North Carolina, have 5 sisters and 3 brothers who all have remained in the south. Both of my parents were very hard workers in a cotton mill and proudly provided what they felt was an ample amount of love and food for our family. My mother always said " Honey don't be afraid to help the next person because you never know what their particular life holds and no matter what always be kind to animals. They did not ask to become part of a family, the people bringing them into the family made that decision and sometimes that choice makes for some very trying times for both parties. What a wise woman my mother was. From the day she told me that I was always working with some stray animal nursing it back to health or just finding it good home. When my father became ill my oldest brother and I went to work to help support the family. He worked for a local grocery store and I started to work at the cotton mill where my mother worked.
At 16 years old I was part of a pilot school program which allowed students who had initative, head strong values and good grades work 4 to 6 hours per day. I made $1.68 cent per hour and felt very fortunate to be able to contribute. All of my paycheck went to help the family- no questions asked. I did not even have the opportunity to take part in the what was to be the greatest night in High School – THE PROM. I personnally chose that my support was needed and in return I could see the love in my mothers eyes when she smiled at me and I knew she was greatful. My father passed away when I was a senior. I met my husband in North Carolina, he was in the Army at Fort Bragg. Jeff was born in Washington State so when his service time was up we returned to a small town on the outskirts of Spokane and was married. We now have 2 successful strong willed daughters and 2 grandchildren who share the same compassion for their animals. Our jobs have taken us all over the United States with life rewarding experiences each time. We have worked Nuclear Power, Telecommunication, Gas Pipeline as well as the disasters associated with 9-11 and Hurricane Katrina with each disaster slowly changing the way we view life. Each disaster came with new animals in our lives as rescues. Over the years my husband and I have worked with very large animals like our buffalo ranch in Kentucky-these big creatures let you know what the word OUCH means and teaches you to have eyes in the back of your head. They are big, docile at times and scary if they get spooked. When you can feel the ground under your feet rumbling as they run you know what power they have. They are wild animals and they can kill you in a heartbeat so you have to be on guard at all times. Then you have the smaller animals dogs and cats. One of our dogs, Baby, is 1 of 8 puppies whose mother died the night they were born. One of the local feed companies had them under a heat lamp and had no idea about feeding. Needless to say we rescued them, bottle feed them, bathed them and kept them warm and loved. We lost 2 but found wonderful homes for all of the others.
Thus comes my new life back here in the northwest, Bonners Ferry actually. I did a lot of research and then made the most important call I would ever make to the owner of the Pooch Parlor, the only state certifed school in Sandpoint. Duann Chambers answered the phone and the noise in the background was really loud but she remained absolutely calm, collected and very professional. I asked her if I could come in personally and speak with her because I knew she was very busy. I met with her the next day, did a walkthough of the facility, met the other students and decided to join. I started the next Monday. I had no idea what I was getting into, as I had only cut hair on people and was not very good at it. I had never clipped hair on animals, but I did know I was meant to make this decision. I tried to be a very calm adult because all of the students except 1 ( Karen) were a lot younger than I and I felt it was to everyones best interest if I showed I was not afraid. I watched how dedicated Duann was with each student while she is showing a clipping technique and letting that person know what to watch for with the dogs attitude and body language. Then it came to be my turn. Sadly enough I didn't even know how to hold the sissors. She showed me how to use the tools, proper body positioning to prevent unnecessary injury to the back and elbows. As we went through the procedure I could see she was closely in control of all students, eyes constantly working the room to each table along with watching the animals to make sure the students were safe. I was amazed at her talent and professionalism as an instructor. I hope she sees I have potential and if I am lucky my eyes and hands will find those little imperfections that Duann seems to catch.
I think my profession will lean toward the "Motherly" side. I have a tender heart toward all animals and I found out right away how they can take advantage of your motherly love. Then came the hard part, teaching the animal that you are in control at the same time giving them the space they need to be comfortable with the grooming and trusting you not to cause them harm. Both groomer safety and pet safety are the number one priority. I like the way Duann has like an open forum training, to explain what I mean, although you have the animal you are grooming she encourages all the student to be aware of their surroundings therefore you have no choice but to watch how the others are reacting with the animal they are working with no interference yet maintaining control of your own grooming table. In my eyes I learned faster to access the other groomers dogs reactions and relate it to the attitude my dog was having at the moment. The intelligence of the animals surpasses everything I thought it would be and to watch how each student has evolved from her shell, including myself, beginning to see the confidence level rising while taking the challenge to deal with the different dog personalities is just amazing.
I have acutally learned more about myself with each dog I groom. I have learned how to give more to those who need the time and to be more stern with those who are trying to take advantage and might possibly cause me harm.
I have thoroughly enjoyed being around each student and their individual personal pet also. Oh my the funny things they do with their on pets. Just like myself, I am sure they each will blossom into a very good groomer and start a business of their own. If I had just one piece of advise to give after taking this class it would be. As we, the older generation look for new paths as a business opportunity, part time or full time, or as a profession to offer as a charitble donation, the Pooch Parlor course for Pet Grooming under the close supervision of Duann Chambers would be an adventure you won't forget. You meet some real characters, have some great laughs and get to groom some of the cutest animals in the business. At the end of the Groom you get some of the sweetest kisses which make your heart smile, but don't be surprised if some are a little sloppy as they are given with pure love.
For the younger generation thinking about this class. Time is on your side. Make each day count by taking in all the class can offer and don't be afraid to ask questions. The only stupid question is the one that is NOT ASKED. That will be the one that could get you hurt or hurt some else who doesn't deserve it especially a pet. Your instructor is not your babysitter but she can be your friend if your need her. Trust in yourself and be proud that you have accomplished a trade that will take you through life and give you pure satisfaction at the end of each day. Remember nothing in this life is actually free; you have to work hard to get to where you want to be. Look deep inside and you will find that self-satisfaction you are seeking and don't let anyone tell you "YOU CAN'T DO IT". That is for you to decide, you control your destiny. If you don't have a pet, get one. All they need is love, respect, food, water, and a little playtime. They will be your friend for life."
Etheleyne is a proud graduate of The Pooch Parlor's Grooming Academy level II course and now owns her own grooming business (Critter Clips at 339 Songbird Lane in Bonners Ferry, Idaho. 208-267-0249)
Monte and Terri Manning for their daughter Ally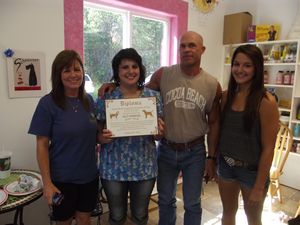 "Our daughter Ally started having issues in middle school. She was tested as being very intelligent, but also had ADD which was evidenced by some social challenges for her. We struggled with finding the right schools for her that could bring out her abilities and would motivate her, but never really came across the perfect situation. Once she graduated, we knew that college would not work well for her so tried to find ideas of how to proceed that would give her the skills to be self-supportive and also happy while also encouraging her to engage on positive social situations and relationships. After some time, it occurred to my wife that Dog Grooming might be a perfect career for her. Ally ADORES dogs and they seem to love her as well (even the mean ones).
We contacted DuAnn Chambers in Priest River Idaho (about 8 hours from Boise) and talked at length about Ally, her program, and options. DuAnn and the situation seemed too good to be true. She has worked with kids such as Ally before and in fact provides a venue for a s residential treatment center for girls to work with dogs as a mean of therapy. Though DuAnn's primary purpose for the school is to teach and certify for dog grooming, she also appeared to have the skills and temperament to work with kids that perhaps were not the ideal employees. We (including Ally) decided to go ahead.
Looking back, we can easily say that this is the best decision we could have possibly made. DuAnn's school provided a strict but understanding environment for Ally, both of which she needed. Ally responds will to clear boundaries and also needs a challenging environment to stay stimulated and interested. DuAnn provided both of these at her school. To stop here would be leaving out the even MORE significant learning that Ally received (and is still receiving as she's still there and employed now full time by DuAnn).
This was Ally's first time living alone. She was 8 hours from any of her friends and her family. She brought her dog Spooky with her which was a big help, but still, it was hard for her at first. DuAnn and Mike (DuAnn's husband) took Ally in and made her feel welcome not only at the shop but in their home. Ally rented a beautiful fully furnished apartment over their garage. This provided both a nearby friend for Ally, but also allowed DuAnn to ensure that Ally was making good choices in her upkeep of the apartment, personal habits, and friends that she associated with. These were all areas where Ally needed guidance, and as if often the case, kids sometimes are no longer receptive to parental advice at certain ages. DuAnn was able to navigate this tricky waters very nicely with Ally. This is no small task as Ally needs to respect someone in order to learn from them (which I guess is the same for all of us). DuAnn was unwavering in her stability and guidance. She often would talk to us about how to proceed. Things like bank accounts, rules for friends, consequences of breaking rules, etc. These are all areas that are not in the fine print for ANY vocational school but DuAnn ably and happily provides.
As a result of Ally's time with DuAnn and the Pooch Parlor, we finally feel that Ally has a future where she will be self sufficient and happy. This outcome was by no means certain had she remained in Boise with us. Ally is more confident, has a valuable skill and is GOOD at it, is taking care of herself and her apartment (and spooky), and is maturing very nicely. We really feel that DuAnn is an angel on earth as she sees the best in people and enjoys bringing it out for the rest of us to see. We've always seen Ally's potential, her charm, her inner (and outer) beauty and we're so glad that DuAnn and the Pooch Parlor experience was there to give Ally the confidence to let it out."
Ally is a proud graduate of the Pooch Parlor's Groomer Academy level III course. Call the Pooch Parlor at 208-255-2699 to book a grooming appointment with her.
This is testimony from Miranda Rizzo who graduated in December, 2011 from our Course II – Advanced Pet Groomer Course.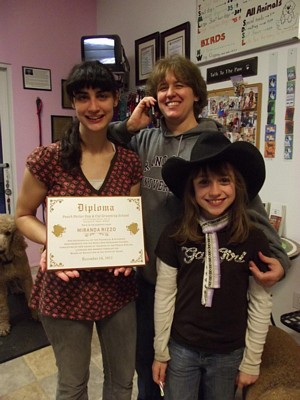 What an adventure we have had! It started when we decided that our oldest daughter was ready to learn a marketable skill in an area that we knew she would flourish in. You see Miranda has special needs and has come to understand the dog world very well. But what could she do with knowing about dogs? She is a talented trainer, loved pet sitter and valued volunteer at our local animal shelter. She tried to apply for a job at the shelter but her language and social skills did not prove to be strong enough to withstand an interview to win her a job with such steep competition! So we started looking into the field of dog grooming. Yes! She could groom dogs and as she gets to know people and their dogs she can branch out into training and boarding! It was a great start! But where to do you go to learn such a skill?
The internet provided us with a list of grooming schools for every state. So we began our search for what we thought would be the ideal situation, looking in states that family and friends lived in – no such luck! We then narrowed our search to two schools that both had great informative websites with lots of pictures and details. One was in New York City and one in Sandpoint, Idaho. Great, we had already planned a vacation to New York so when we were there we planned on checking it out. But, once we got there we realized this was not the place we wanted our daughter to be. So this is where our journey to Sandpoint started. My husband called and asked several questions and arranged for her to go to Idaho. Well, we were not sure about this place we were sending our oldest of six children who has disabilities that resemble that of aspergers. So, again he called and asked if it was okay if I, her mother, came along to assist where needed. The reply was, "Yes, absolutely. We have never had a parent come before but if you feel she would be more comfortable then we can try it." What a relief to our ears. We packed the van with Me, Miranda, Aubrey, (who is attending college in Rexburg, ID) Carlee (my 10 year old) and our Boxer Indy and off we went on the long drive from Alaska to Idaho.
Arriving in Priest River, Idaho we rented the beautiful apartment above DuAnn and Mike's garage. This was the best of all situations. Miranda could ride to the shop with DuAnn everyday and I could stay home and home school my youngest child, Carlee. Then, once in a while I could stop by the shop and check in or I could meet with DuAnn after work and see how things were going.
To our amazement DuAnn is a wonderful, caring and understanding person who really knows how to communicate with girls like Miranda! Miranda excelled under this type of learning and teaching style. She was able to work at her own pace and get help when needed, and challenged too. Things were explained in a way that she could understand and rephrased if she did not understand. A lot of teachers teach in one way and if you don't "get it" then too bad. This is not the case at the Pooch Parlor! Things are taught in your learning style. DuAnn is positive in her approach to making sure safety and accuracy are both observed. She also points out things that the student needs to be aware of in order to make sure the student and customer are happy. Miranda would come home each day excited, happy and eager to tell about what type of dogs came into the shop and what type of things she learned that day. She learned more than grooming, she learned about how to talk to customers, as well as different signs of allergies or other possible medical conditions, and how to deal with different types of attitudes in dog breeds.
Any questions we have had have been answered. I know the support will continue after we leave, and this is a huge benefit. I am certain other schools with high volumes of students would not have the same after school support. The one on one learning that happens here in very valuable! The other staff and students were great to work with also. Miranda has made some good friends that she will keep in contact with as they journey on into the grooming world.
We cannot express our gratitude enough for the love and kindness both DuAnn and Mike have shown towards all of us. When Carlee would come to the shop she was given jobs she could do so that she felt like she was part of the experience too. We had fun times outside of the shop also. When I was called home to Alaska for two weeks DuAnn took extra care to make sure Miranda was safe and happy. Even during some hard times in their own busy lives they were always cheerful and helpful. This whole experience of being able to come to support my daughter in her future, have a great place to live and make new friends has been amazing.
We have been asked many times while we have been here why we chose to come learn at the Pooch Parlor. The answer in the beginning was because they had the best website that explained the program and what would be taught. The answer now – I would never be able to find a program that would be better for my child to attend. It has been great to be here and we are excited to return home to Alaska to start our own business! Would I recommend this grooming school to friends with children that have some type of disability? Absolutley! Even friends with children without disabilities! And if you are worried about sending your child off in to the unknown, it is great to be able to come along.
Thank you for the wonderful learning environment and great times at the Pooch Parlor!
Pauline Rizzo, Mother
What Miranda has to say about her Pooch Parlor experience:
DuAnn is such a wonderful teacher and is the best one you could ever have. I received one on one training. I felt comfortable and challenged in this learning environment. DuAnn was positive and kind during my whole time here. If you ever want to learn how to groom and want one on one training then this is the place to go. I felt a great connection to DuAnn which is exactly what I need to be able to learn. Everyone is so nice here. You get to work on lots of different dog breeds and learn how to deal with lots of different dog and people personalities. I would recommend anyone who wants to groom to come here and have Du Ann train you. You learn so much and you will have the most wonderful experience you'll ever have. You will never want to leave. I feel prepared to go home to Alaska and groom all breeds of dogs.
Miranda Rizzo, Newly Certified Groomer!
This is testimony from Kara Henry who graduated in September, 2011 from our Course II program.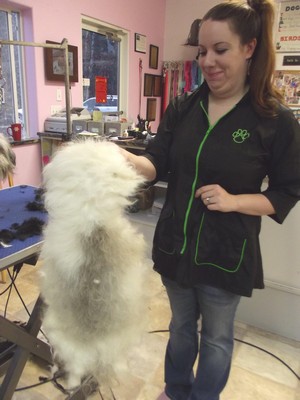 "I have learned a ton during my training at The Pooch Parlor. Duann has been the most wonderful teacher that I could've asked for. The training is done on a very personal, one-on-one level, and at your own pace. The training was extensive and included many different breeds.
I have found my dream career and can utilize my skills anywhere in the U.S. It is such a wonderful feeling to be state certified. I am currently employed at the Ponderay Pooch Parlor and am working towards my National Certified Master Groomer certification.
I am hoping to open a shop in the near future with my husband. Taking this program was a life-changer for me, I would recommend it to anyone who is considering grooming as a career."
Kara Henry
This is testimony from Chelsea Montville who graduated March 21, 2011 from our Course III HONORS program.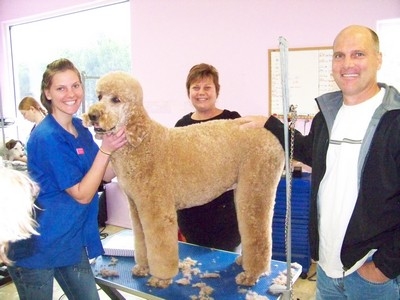 "Learning how to be a dog groomer at the Pooch Parlor has been one of the greatest experiences I've ever had, granted I'm young with only eighteen years of experience to compare, my time at the Pooch Parlor has been memorable. Not only have i been given the opportunity to have a job no matter where i go in the U.S. but I got to learn a lot about myself in the process. Believe it or not each and every dog teaches me a lesson about myself and has something to tell me about how they see me. If I have a dog that's usually pretty good but is a total brat with me then something that i'm sending off into the world screams push over… lesson learned. I've grown knowledge in dog care, needless to say, patience, and work ethic that will help me in every job to come. I have Duann to thank for so much of this, and the atmosphere that she has created is inviting and professional to say the least. I wouldn't take back any memory I've made here. And the best part of the job is that really anybody can do it, if thier willing to put in some effort. I have and the results have been beyond rewarding. I'm proud to move into my dog grooming career with confidence in what i know and experience under my belt. :)"
Chelsea Montville
Trisha Y from Honeysville, UT
She graduated Oct 8, 2010 from the basic course and is working full time at Idle Wire Pet Care in Ogden Utah. She loves it!
Trisha finished this Express Course I with flying colors! Here's what she had to say about grooming school on her graduation day:
"I learned so much in the little time I have been at the Pooch Parlor. One of my favorite things about working there is that there is a friendly environment. It has a fun, happy energy and everyone is always willing to help out when needed. I also learned a lot about dog behavior and why a dog will react in certain ways to certain things. I never realized how much of knowing each dog's different personality went into giving them a great haircut. I am very happy with my choice to learn at the Pooch Parlor. DuAnn is a really great teacher and I couldn't have chosen a better school to go to."
Trisha Y, Honeysville, UT
Kelley Wilwert, age 50, is a graduate of the Pooch Parlor Pet Groomer Academy. She graduated in January 2010. She has opened the Barker Shop in Athol, ID. You can reach her at 208-277-7741.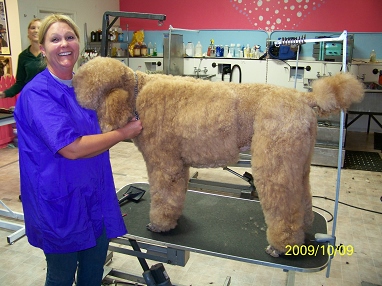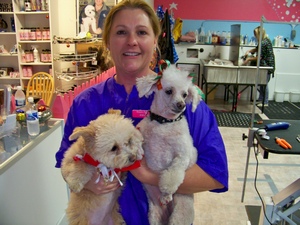 "The training I received from the Pooch Parlor Pet Groomer Academy, gave me the skills and confidence I needed to become a successful business owner and pet groomer. I now am the proud owner of a successful pet grooming salon. I fully recommend the Pooch Parlor to anyone considering becoming a certified groomer. I love my new life!"
Kelly W., Athol, ID
Testimonial from Deborah Jeanneret, age 40ish, from Lolo, Montana, a graduate that trained Feb. thru April, 2010.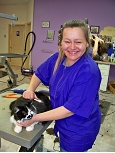 Deborah and Cassi cat on her first day.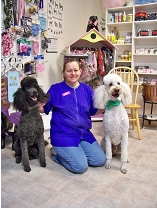 Deborah and 2 std. poodles, day 19 of her training.
Update: Deborah is now working at MuddyBuddy Dog Wash making 5 times what she used to before grooming school. She can be reached at 425-244-3243 for great service in Marysville, WA. She loves what she does and the fact that she can afford to have a life. She grooms 4-5 dogs a day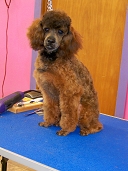 "My journey through the Pooch Parlor Pet Grooming Academy was as forewarned, a very physical, and fast-paces class. I had only previously been a pet bather many years before. My first month was filled with safety of pet's, stripdowns, large and small breeds, clips, trims, and sculpting crooked legs to look straight. I was sure going to in that I would have problems with scissoring techniques, but through DuAnn's excellent instruction, I easily learned each technique and grew confident in my abilities. Every success, I stood back and literally blew myself away. WOW I did that!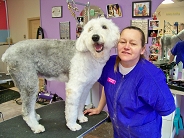 By the 19th day, I took on the challenge of two standard poodles. Every step of the way I was rewarded from DuAnn with her saying 'great job!'. The best of the rewards were the looks on the customers faces of the great grooming I had done. In this first month, I also had a customer with an old English Sheep Dog. My task was to check in her dog, ask questions of what she'ld like done, groom the dog, and call her upon completion. This was a proud day for me. She was very pleased with my work and rescheduled her next appointment requesting me! Wow!
My second month, I was much stronger physically. I groomed a lot of puppies their first time. Very challenging, but the reward was I got to be their first groomer and by the end of grooming one wiggley apricot poodle puppy that was scared and jerking his paws, I had him holding his legs still in my hand. WOW, I did that! My teacher gave me an A+ for that pup. With all the different breeds and different want's of the customers, shapes, sizes of pets, I was never bored by repetition, but intrigued by how much there is to learn and WOW, I was doing it!"
In my third month, I worked on fine tuning the skills I had learned. Scissoring is no longer a problem. I've turned it into an art. I'll be forever grateful to the Pooch Parlor and all the gals. Special thanks to Sara and Barb for all I've learned here, and will always continue to learn through life. THANK YOU ALL.
In closing to this is yet another proud moment of many there and to come in my future as a Professional Pet Groomer. The second groom on the Old English Sheepdog, her mother brought her Australian Shepard to be groomed by me also. I talked to her about her dogs and groomed them. The Old English (Sassy) had been in a fight several days before and had a puncture wound on her back. So I asked her permission to spot shave it so she could easily dress the wound. Upon starting Sassy, I found five other such wounds on her ears, leg, and mouth. I immediately called her mom to let her know and ask permission to shave them. She was unaware of the other wounds and was very happy and appreciative of my work. My teacher DuAnn, gave me the biggest compliment of all, "great job, I couldn't have done this dog this well". WOW.
Deborah got a job within 2 weeks of graduating from the Pooch Parlor. She lives and works in Lolo, Montana and can be reached at 406-239-6324.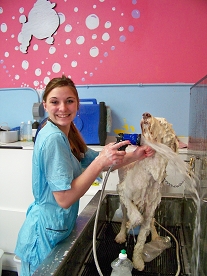 Shaya Hall, 18 years, gives a testimonial of her experiences as a Pooch Parlor Pet Groomer Academy student, in 2008. She was a student from March thru Sept., 2008.

"Patience, l
ove, cooperation, and compromise are some of the many words one truly learns when one is training with the Pooch Parlor. This is the place to go if you are aiming for success and joy."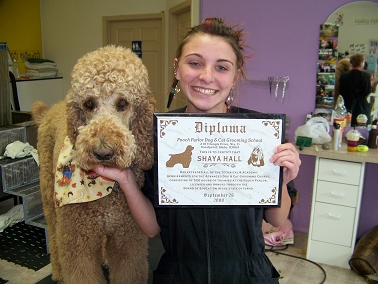 When I first started training I had no idea what it would truly be like. My first though was, " ooh I get to play with dogs all day!" In fact, playing with the dogs is just the icing on the cake. The actual cake is made with hours and hours of mind boggling haircuts, and bathes that end in the groomer soaked with more water than the dog. Thank goodness we have such great people surrounding us with helpful hints.
I am now a state-certified groomer, and it feels incredible. There isn't a day in my life that I regret getting my certification in grooming. I will always recommend the Pooch Parlor to anyone who is interested. There are many great qualities to this program. I know everyone who trains here will get something good out of it, whether it be qualities or technique.
I hope to see you soon!!"
Shaya Hall, certified all-breed groomer, certified and trained through Pooch Parlor Pet Groomer Academy
This is a testimonial from Leslie G. She is currently enrolled in the Level III course and will be opening her own shop in Montana.

"I started my dog grooming training course at the end of April. It has been a joyful experience for me. DuAnn has been an exceptional instructor. Training at the Pooch Parlor, I have discovered great camaraderie between DuAnn, her staff, and students."
If you are l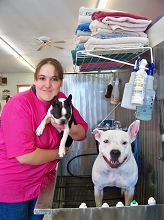 ooking to start a career as a groomer, I would recommend DuAnn at the Pooch Parlor. He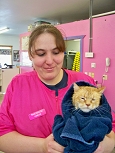 r employees are very helpful and enjoyable to work with and learn from as well.
Leslie Gordon and her dog family.
This is a testimonial from Audrey M., from Idaho Falls, who has been diagnosed with Asbergers. She is taking the Level II Course and is scheduled to graduate at the end of May 2010. Audrey is doing exceptionally well in her training and learning abilities.

"I am currently taking Course II with DuAnn at the Pooch Parlor. I was a bit nervous at fir
st, but now feel quite confident with each new day that comes."
I am conservative in nature and can confidently tell you that I give DuAnn's school a strong B+. If I were the only student, (right now there are two others) I would give her an A. I have 3 months of experience as a bather, which is why I wanted to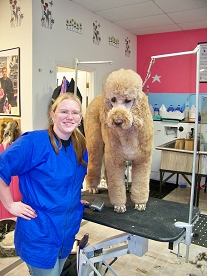 go to grooming school. The equipment here is superb, and easy to use. The 4 tubs are built for dogs, not for humans (like my last place). The tables go up and down, saving your back, and that of your client. The Pooch Parlor is a professionally set up grooming salon. All the tools are readily available to fix any problem I might come across. The skills I am learning have a structure and pattern that I can follow. And the repetition of those patterns is great. Knowing the succession of what comes next makes it really easy for me to have a successful grooming experience, then I don't forget anything.
I like having the variety of dogs and cats to work on. Everything from 3 pounds to 200 pounds comes through here. Where I worked before, we only had small dogs, and typically just a few breeds. That got really boring. There is plenty to work on and I do go home tired, but it's a happy tired.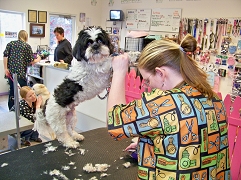 DuAnn has been a much better teacher than I have had in the past. She teaches me in a structured way, that is all hands-on. She is friendly and willing. I like learning new things and she likes teaching new things. When I am having a particularly difficult moment, instead of walking away from me like others have done, she says to me, "how can I help you through this?" I don't always know how to help myself, or what to tell her, but I appreciate her willingness and her flexibility in her teaching methods.
The environment here is conducive to learning. Although it is mostly women, everyone is friendly, and helpful. Everyone wants you to be happy and successful. Even the customers are friendly and happy to help me with checking in dogs, and giving me grooming instruction. I have found that I am really good at scraping teach and cleaning ears, two things that are usually not a specialty of the average groomer. I also like grooming and clipping cats and big dogs. All of these things I have learned that I am great at, are things I was never even exposed to in the shop I worked in before. I would never have known I liked doing these things if I hadn't come here.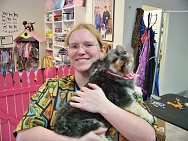 I am boarding with DuAnn and the accommodations here are very comfortable. There is a lot of room for me to do what I want, watch TV, draw, make bows, surf the internet, wash clothes, bake, or take a bath. It's very comfortable, and private, but not lonely. DuAnn and Mike (here husband) are always close by if I were to need anything. And their dogs are here too if I need doggie company. It makes it convenient to ride to school with DuAnn. Since she brings her big and small dogs with her, it is a nice time to get my dog recharge in. Her dogs make me feel at home. They are great personally, and as professional guinea pigs.
As you can see, DuAnn takes a LOT of pictures! I really like seeing how much I have improved each week, and, when I am done, I will have my very own portfolio to show the work I can do. I forgot to mention that I have made quite a bit in tips sine I have been here! That's a wonderful bonus!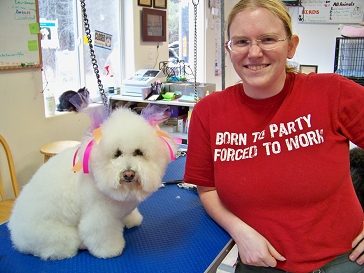 I would recommend this course to anyone thinking about learning how to groom. The environment is friendly, the teacher is willing, the equipment is great, and the variety of dogs and cats is awesome. I can see myself making a living in this industry with the skills that I am learning. I am really excited about that. And the best part is, I will be CERTIFIED when I am done. Having the diploma to prove I know that I have been professionally trained is most important! Now I will be able to cater to the customers that care about the training their groomer has had, and that means a higher class of customer, and a better paycheck for me!
You can find me working in Southern Idaho after I graduate in June, 2010!!!"
This is a testimonial from Kirsten from Seattle, aged 23. She has long suffered from learning disabilities. She took the Level II course and graduated in August 2009. She is currently working towards finishing Beauty School, and will be returning to Pooch Parlor for continued training towards Level III.
Pooch Parlor experience….Wow! Where to start?
DuAnn is an amazing teacher. Everyone learns in different ways and she can handle that and is great in teaching in more than just one way. She finds your way, to better your individual growth and experience as a groomer. She as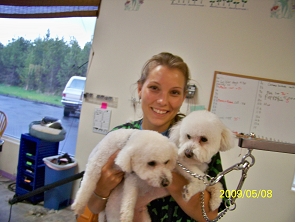 well helped me become a great groomer as well as helped me in my journey to become a healthy,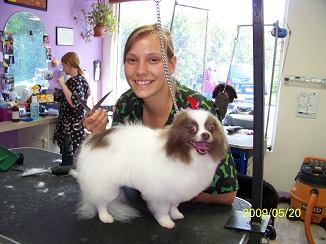 independent woman.
If you are interested in becoming a groomer, definitely come to DuAnn's Pooch Parlor. It's a great time and you'll be sad it goes by SO FAST. And the girls you train with are a blast. In a scale of 1-10, I would rate this a 10! Great experience and great relationships!
Testimonial from Jim Goss. He has recently graduated from the Level III Course and will be running his own grooming salon. Jim was nervous when he started, but he picked up the tricks of the trade very quickly. You can reach Jim at the Pooch Parlor -Oldtown location at 208-437-0503. This is Jim on his first day. He was the only male student in a class full of
females. He did fantastic! He is pictured here with Mike Chambers, Pooch Parlor owner.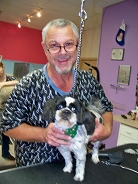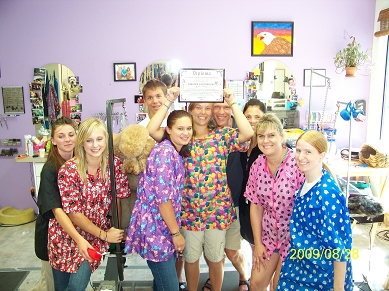 I was in the construction trades for over 30 years and worked my way up the ladder (no pun) to a well-paying position. The construction trades did and after months of being on unemployment for the first time in my life, and no construction jobs to be found without making a move to another city, I started soul searching. What to do?????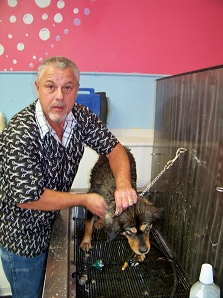 Well, my wife, Sara Goss, had gone to school to be a pet groomer with the Pooch Parlor 6 years before, and her trade was holding up well. She was trained at the Pooch Parlor by DuAnn Chambers, so I decided to do the same with the thoughts of us opening a grooming shop together. If that didn't work, I saw on the internet that Petco was hiring at more than one location.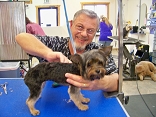 I took the Level III Course so not only would I learn the grooming aspect of the trade, I would also learn the business aspect of the it. The schooling was all hands-on training and I was working on dogs the first day. It was kind of like learning how to ride a bike, I was shown how to do it, then put it into practice. I thought at first I would never be able to do this, but with the techniques of the trade shown to me and the patience of DuAnn, it clicked. I was grooming! And I was able to finish school early and start working! I started out nervous, and scared, but finished proud. DuAnn was so impressed with my newly found skills, that she decided to sell one of her shops to me! I am now the proud new owner of Pooch Parlor -Oldtown!!! THANKS DU!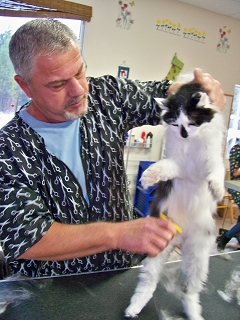 Jim and his wife Sara (in purple) are pictured below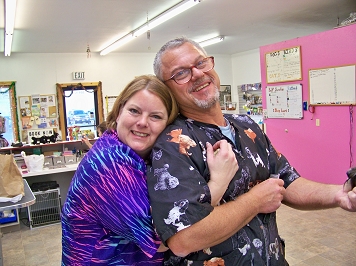 Heidi Heldt, age 18, gives a testimonial of Pooch Parlor Pet Groomer Academy, Advanced Level graduate, January, 2010.

"Training at the Pooch Parlor was fun and interactive – which was important for a hands on learner like myself. There is a level of re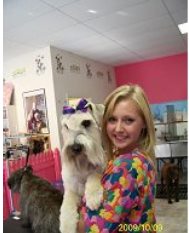 spect between the staff, students, and teacher that is unlike any I have seen in previous workplaces or educational centers. The staff and teacher alike are highly educated and professional."
The Pooch Parlor is not only a place where your dog is treated like family, but also where the staff and students are too. P.S. Anal glands aren't that bad! I was surprised to learn that there is more to grooming dogs than simply grooming dogs. There is a level of mutual awareness that can only be learned through training and involvement.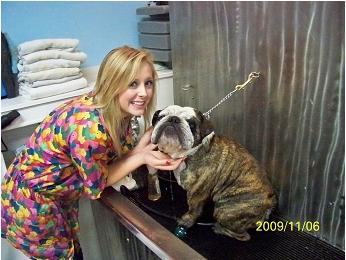 I also learned that grooming is fun! It is hard work, but it is always rewarding to know that you have a done a good job. The level of technical expertise I have experienced at the Pooch Parlor is unparalleled to any other that I have seen. The Pooch Parlor has taught me not only the ins-and-outs of grooming, but also life lessons such as patience, integrity, awareness, and self-control."
Amber Holt, gives a testimonial of her experiences as a Pooch Parlor Pet Groomer Academy student. Going through the Pooch Parlor Grooming School, was well worth every cent & then some. I had researched schools nationwide, & internet home schooling options for about a year. The Pooch Parlor not only met the standards of established l
arger schools, it offered a one on one experience. That meant there were to be no other students & I had 100% instructor time for about $300 less than the other top two schools I had been considering.
Another reason, I chose the Pooch Parlor because it was not only 5 min from my house, but I had been a client of DuAnn's for years, & knew the quality of work she produced as a groomer herself. I enrolled in her advanced class. Not only did I learn all breed grooming skills to an advanced level, but valuable business skills, phsycology skills, attained unmeasurable public relation skills dealing with difficult situations, people, & thier pets. Originally I planned to work under her upon graduation & then in a quaple years start my own business.
About half way into my schooling DuAnn incouraged me to start my businessupon graduation. Not ONLY did she incourage me, but she was a major & valuable part of me going through the stepps of logistics to get started. By the time I graduated I could completly groom 5 advanced grooms in one day ( Standered Poodles, Bichons, Snauzers, ect).
With in one month of graduation, I opened Amber's Mobile Grooming, 'The Spa for Paws'. Today I run a high end mobile grooming & spa. I take up to 5 clients a day, & cater to a very high end clientle, with an average groom around $100.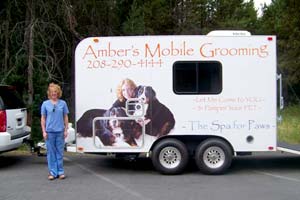 People comment on that it is the very best their dog has ever looked, acted & felt after a trip to the groomer! Simply, because it is! There are several grooming shops in this area, & a handful of self taught groomers have tried mobile grooming in this area on thier own. I am the very first to succeed in this area of mobile grooming. Mostly attributed to the education, skill, & business knowledge that I recieved from going to the Pooch Parlor Grooming School.
I believe if you take the proper steps, in a professional mannor to the do the very best, success in inevidable! The Pooch Parlor Grooming School was one of the biggest steps to my success. It has been one year since graduation, a lady called just today for an 'Right Now' appointment (who was reffered by The Pooch Parlor to me) & I had to tell her I was three weeks out for availability. Her response was, "WOW, you must be really, really good!" . I thought to myself, "It's because I had a REALLY! REALLY GREAT teacher!" Every person that has graduated to my knowledge from the Pooch Parlor is a successful employed groomer today! Amber Holt- Amber's Mobile Grooming, Kootenai, ID
Photo below is of Amber, Julia and DuAnn. Julia always brightens our day when she visits with her
JUMPIN JAVA BUS.