Welcome to the Pooch Parlor!
Now...FREE shipping on all orders over
$40.00!
...in our Shopping Boutique!
Pooch Parlor News:


Testimonial from our client, Diana
February 13, 2016

"Pooch Parlor in Ponderay is excellent! My kitty, Sassy had terrible matting that was making it uncomfortable for her to even walk. She was getting depressed, not her usual lively self, and was just nibbling at her food.

Every other groomer I contacted wanted to a use anesthesia to put Sassy under for grooming. To my relief, DuAnn agreed to work on her without anesthesia. DuAnn was so patient and loving she allowed me to stay and hold Sassy while she work on grooming out those nasty mats. It took upwards of an hour and a half of starting and stopping to give Sassy a break and get used to the idea of us using the shaving tool on her. DuAnn warned me that there could be some skin irritation and potentially scabbing....but none occurred.

The end result was beautiful. Sassy looks like a little lion. Best of all Sassy is running and jumping, climbing trees and back to eating..even asking for seconds, now that she is burning up so many calories. I would have been the last person to believe that just grooming your pet could have such an impact on their health.....but I am a believer now....and I believe in the ability and love that DuAnn and her staff at Pooch Parlor possess.

~Namaste Diana"


We're proud to announce DuAnn's new book... Get your copy now.


Poop Happens? Remain Pawsitive...
can help ANY groomer experience a career that brings joy to the groomer while allowing them to successfully navigate potential "career stopping areas" of the pet grooming industry.

Click here for more information and to purchase.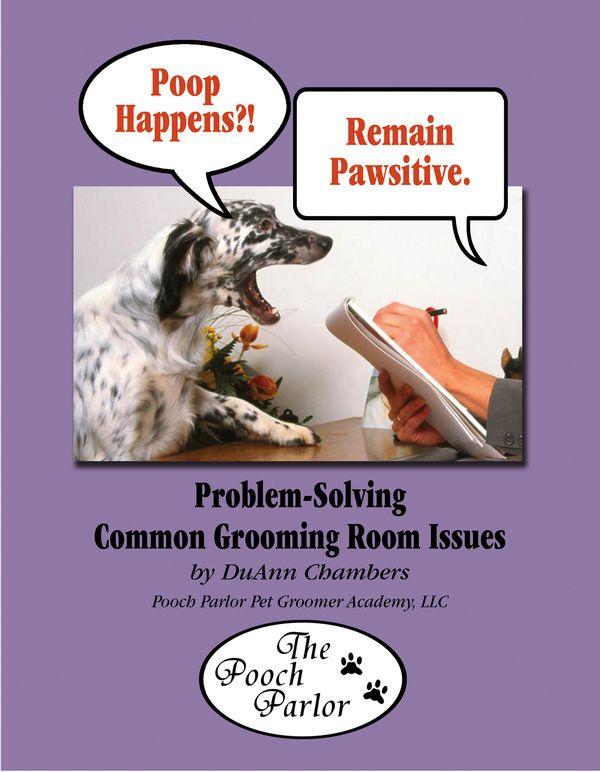 The Pooch Parlor: Not Your Average Pet Groomer Academy
By Carissa Sindon


A steady stream of customers filled The Pooch Parlor Pet Groomer Academy in Ponderay, each with a dog in tow.  All six grooming stations were quickly filled with every breed imaginable and students eager to learn the art of pet grooming.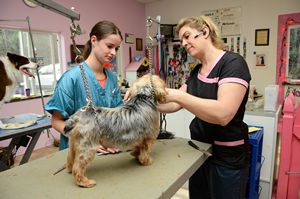 Owner and instructor, DuAnn Lustig-Chambers, made her rounds, wisely guiding students in grooming techniques and principles of customer service, peppering instruction with jokes and encouragement.

On the surface, this scene may look like a typical "classroom" where the teacher is helping her students learn, but after digging a little deeper, there is something much more transformative taking place.........
Click here to read the rest of the article.

Check out DuAnn's new how-to pet grooming and health care videos below. Select PLAYLIST to see a list of all videos.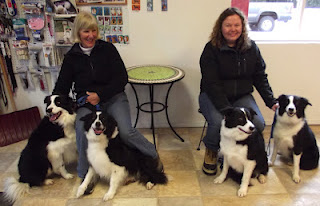 Enjoy our latest newsletter:


FUNDRAISER DOG WASH: Its time for our annual "Canines Against Cancer" community fundraiser dog wash! All proceeds go directly to help pay fuel costs for local citizens undergoing current chemotherapy.

October 1, Saturday. 8:30 am to 2pm. Appointments are helpful but not necessary. Free hot dogs (all-beef and vegetarian) will be served 10 to 2 for the humans. Dogs and cats get toys or cologne. Bring your dogs, cats, iguanas and hedgehogs for grooming, bathing, nail trims,and teeth brushing. This is A DONATION ONLY GROOMING DAY.

NEW ADDITIONS:
This black beauty is Chara, our 5 month old Black Russian Terrier. Benni, our poodle tragically died on the 4th of July. Our family was not OK without a big dog. Chara brings us so much joy. Chara will have a new poodle brother this next summer that will be Benni's nephew. In the mean time, Chara is doing her best to befriend Grumpy Greta.

Students: Ashley is from Cusick, WA and Hannah is from LaGrande, OR. Please ask for these students for reduced student discount grooming. Hannah needs cat grooming if there is anyone that has a cat that needs clipped or bathed by a student.

Certified Groomers: Please welcome Kem to our staff of certified professionals. She is the proud dog mom of a gorgeous 3 month old German Shepard, Junior. Kem is an all breed cat and dog groomer. She especially loves grooming shepards:) Kem works Monday through Saturday.

Julia is also on an all-breed dog and cat and works Tuesday through Saturday. She is an amazing groomer with large and small breeds, and cats.

DuAnn (that's me pictured above) am the lead trainer, and am also an all-breed dog and cat groomer. I specialize in owner stay grooming or worrisome medical issues that are affected by grooming. I also LOVE grooming cats, and schnauzers.

Books for sale:
The book published last year is now nationally sold in the professional grooming circuit. It is also available on the website and Amazon. The book is about medical issues found in the grooming room and the psychology relating to different customer types regarding those findings. The combination of psychology and dogs is so interesting to me that I needed to know more. I am getting my Masters in Family Therapy to further my knowledge of how much dogs affect our lives for the better. Why we choose the dogs we do, and how much our dogs contribute to our families and emotional well-being is an area I am exploring with fervor. This is the reason the newsletters have been so scarce. Thank you for reading this far!!




Keep your dogs safe from these 7 common holiday foods.

Baking and cooking during the holidays is one of America's favorite winter past-times. Sharing food with your friends and family is as normal as apple pie at Thanksgiving. Our dogs ARE family, so please remember that not every ingredient we use for human cooking is safe for dogs. Keep your dogs (and cats) safe during the holidays by taking special care NOT to feed your dogs some of the things that humans LOVE to cook and bake with.

Xylitol
Unbaked bread dough/ Alcohol
Onions and Garlic
Grapes and Raisins
Chocolate
Macadamia Nuts
Avocados

Xylitol is a natural, sugar-free sweetener. It can be used as a sugar replacement in all holiday baking. It can be found in chewing gum, puddings, Jell-O, mints, and many oral rinses (Be sure that if you use Listerine on your dogs gums, that it contains NO Xylitol) Xylitol is extremely lethal in even the smallest doses for your dog or cat, producing symptoms of hypoglycemia. Symptoms of ingestion include: vomiting, loss of muscle control, seizures, tremors, and coma.

Raw baking dough, commonly found on kitchen counters during the holiday season creates alcohol and bloating in the stomach of the dog that has ingests it. The yeast in the dough expands, creating pressure in the dog's stomach, which at the least, causes discomfort and at worst, death of the stomach tissue. As the yeast multiplies, alcohol is produced. Dogs are far more sensitive to alcohol than humans. Alcohol poisoning is potentially lethal. Symptoms your dog has ingested raw dough: belching, vomiting, distended stomach, lethargy, 'drunken behavior', and decreased respiration.

Onions and garlic both contain a compound that attacks the red blood cells of dogs and cats. If enough is eaten in raw, powdered, dehydrated form, and even cooked form, it can potentially cause toxicosis. The stronger the garlic or onion is, the more concentrated the reaction is to the red blood cells. Signs of toxicosis show up 3 to 5 days after ingestion and include breathlessness, lethargy, vomiting and diarrhea. Ingestion of onions and garlic is rarely fatal, but does commonly create physical discomfort for the dog or cat.

Grapes and Raisins are both believed to be extremely toxic to dogs, causing renal failure in many cases, though clinicians have not come to agree on any one theory to explain why. Raisins are generally thought to be more toxic to dogs than grapes, based on concentration levels. Symptoms begin with vomiting, usually within hours of ingestion, followed by diarrhea, excessive thirst, and lethargy.

Chocolate contains a chemical compound called theobromine, which is toxic to dogs and cats. The darker the chocolate, the more potentially toxic it is to the dog. This is part of the 'caffeine effect' that humans experience, and metabolize quickly. Dogs cannot metabolize theobromine quickly, which is why chocolate consumption can be life threatening. Symptoms of chocolate poisoning in dogs include vomiting and diarrhea. High-risk symptoms include hyperactivity, tremors, increased heart rate, respiratory failure and heart attack.

Macadamia Nuts are not typically an extreme risk for your dog's health but can give your dog some uncomfortable side effects. It is unknown why macadamia nuts are toxic to dogs and they are thought to affect the nerves of the dog's body. Symptoms include lethargy, vomiting, stiffness, staggering tremors, motor loss in the legs, and sometimes temporary paralysis. Onset of symptoms is typically 12 hours after consumption.

Avocados are a controversial food for dog consumption as they are highly toxic to many breeds, such as birds and horses, but are not toxic to dogs. It can give them some uncomfortable symptoms such as: diarrhea, vomiting and lack of stool production. Avocado pits (seeds) can be potentially lethal to your dog, as they can completely block the stomach and intestines.

If your dog is experiencing a potential poisoning, call the ANIMAL POISON CONTROL CENTER (800-213-6680). They are available 24 hours a day 7 days a week to help with any emergency. The website for pet poison helpline is www.petpoisonhelpline.com.


Copyright DuAnn Chambers 2013, all rights reserved.




Coming soon....




** The Pooch Parlor is a place for pets and their
people that want a clean, safe, professional and
family environment for grooming, where
professionalism and customer service are held to
the highest possible standard.
------------------------------------------------------------


** We offer the following services:

*text appointments via phone
*email appointments via the website
*doggie drive thru window for dogs under 20 lbs.
*full service grooming for all breeds of dogs and
cats
*state-certified groomers
*student grooming discounts
*offer 'no-kennel' grooming by request
*owner stay grooming by request
*self-service bathing stations
*walk-in appointments
*teeth scaling  and/or teeth brushing
*nail trimming  and dremeling (filing) on a
walk-in basis
*anal gland expressing
*bird nails and wing trimming
*retail grooming tools
*doggie day care
*owner grooming training by request
*doggie and family portraits (free)
------------------------------------------------------------


** Pooch Parlor Groomers/Staff.
Every groomer has undergone rigorous training
to attain their certification at the state level.
The training includes more than instruction about
the technical aspects of grooming and scissoring,
it includes strict codes of conduct and tight
guidelines for ethical treatments of pets and
their owners, safety practices, and cleaning
standards.  This certification is something we
are most proud of, as the grooming industry is
not regulated by any one entity, and only 5 percent
of all groomers spend the time and money to
train under any qualified guidelines.  All
employees are drug-tested and undergo criminal
background checks.
------------------------------------------------------------


** The Pooch Parlor Pet Groomer Academy, is the
only grooming school licensed and bonded through
the Board of Education, in the State of Idaho.
We offer training to students that come from all
over the world to acquire certification.  We offer
reduced student grooming rates for those customers
that want to help groomers-in-training.
------------------------------------------------------------


**  We also have a camera handy and LOVE to take
pictures of our staff, students, customers, and
their dogs.  There is no charge for family portrait
and we email it to you, just ask.  Pictures of
your 4 legged kids are really important, since our
time with them is never long enough during our
lives.


The Pooch Parlor in Ponderay is owned and operated
by DuAnn Chambers and her husband Mike.  Mike is
not a groomer, he is a remodeling specialist, with
Git 'er Done Construction LLC., and helps out in
the grooming shop with all repairs and upgrades.
Mike and DuAnn have been married 22 years.  They
share the love of dogs, owning a mini schnauzer,
7 year old 'Grouchy Greta', and a Black Russian
Terrier, Chara, 5 months. In our spare time, we
scuba dive, paddleboard, travel, hike, and remodel
old homes.   We thank all of you our friends and
customers for making it possible for us to LOVE
what we do!  Thank you!



Pooch Parlor Blog

Pooch Parlor Website

Visit the Groomer Academy

Check out the Shopping Extravaganza



To provide a clean, safe, fun, family environment for dogs and their humans, where integrity, customer service and professionalism are held to the highest possible standard.

view email in browser | unsubscribe | update your profile | forward to a friend

We send special information to our customers who opted in at www.thepoochparlor.net

Copyright (C) 2016 Pooch Parlor Pet Groomer Academy All rights reserved.
If you enjoy our newsletters, please sign up to receive them above. You may also view our newsletter archive by clicking below:
| October 2010 | November 2010 | December 2010 | February 2011 | May 2011 |
| July 2011 | December 2011 | November 2012 | January 2013 | February 2013 |
| July 2013 | June 2014 | September 2014 | June 2015 | September 2015 |
| October 2015 | September 2016

You can now make an online request for a grooming appointment at our Ponderay location.

Click here to see how.
The Pooch Parlor presents a free video of instruction on how to trim your own dog's nails. "How to clip black nails on a nervous dog"

Click here to see the video.
The Pooch Parlor presents a free video of instruction on how to trim your own dog's nails. "How to clip dog's nails while they stand"

Click here to see the video.
DuAnn has published an article on "Want to know why your Golden Retriever smells like an old dish towel?"

Click here to read why and what to do about.
DuAnn has published an article on "How to keep your dog from getting matted in the snow."

Click here to read what to do about.
DuAnn has published an article on "Want to Know How to Clip Your Own Dogs Nails? Find Out If You Should" at EzineArticles.com

Click here to read the article.
DuAnn has published an article on "New Career Opportunities in the Pet Industry" at EzineArticles.com

Click here to read the article.
At The Pooch Parlor...
We specialize in a variety of services to help you and your pet receive the services and cuteness you desire! With two locations to serve you, we're sure you'll find all of the tools and techniques needed to keep your pet sparkly.
Our parlor is unique in the fact that we offer not only grooming services, but also a grooming academy and individual training for those wishing to further their at-home techniques or become service providers. The Pooch Parlor's Grooming Academy is certified in the state of Idaho and we pride ourselves on offering the best training for our students. For those wishing to learn the basics, our online grooming (Do-It-Yourself Grooming) tutorials are set up to enhance an owner's ability to maintain grooming in between visits to the parlor. The Pooch Parlor also has an array of boutique items for your pet.
Please use this web site to learn more about our services, training, and supplies available to you. We look forward to getting to know you and your pooch!!